Free UK Delivery on All Orders
30 Day Hassle Free Returns
Expert Advice & Support
Hydro+ H15PA - 1 Micron Carbon Block / Scale Inline Filter with 1/4" Push Fit Connectors
Hydro+ H15PA - 1 Micron Carbon Block / Scale Inline Filter with 1/4" Push Fit Connectors
Multi-Buy Discounts
Buy 2 - 3 and pay only £17.25 each
Buy 4 - 10 and pay only £15.95 each
Buy 11 - 24 and pay only £14.95 each
Buy 25 or above and pay only £12.95 each
Product Description
Hydro+ H15PA, 1 Micron Carbon Block / Scale Inline Filter with 1/4" Push Fit Connectors
The H15PA filter is similar to the H14PA but also boasts scale inhibitor. It has a capacity of up to 6,000 litres; integral 1/4" push-fit connections and is suitable for use as an inline fridge filter, water cooler or under-sink filter.
Genuine John Guest push fits.
Europe's best selling range of inline filters.
WRAS approved.
1 micron carbon block.
Scale inhibition.
This filter is currently available at a reduced price of £18.19 with free carriage (UK mainland only).
A 6 month filter change is recommended by the manufacturer.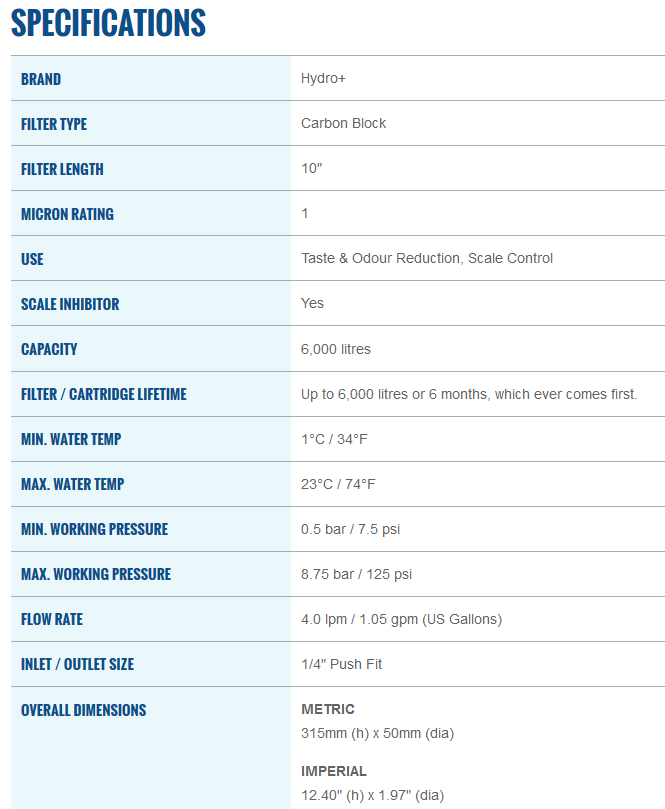 This filter is compatible with the:
SAMSUNG- DA29-10105J
SAMSUNG WSF-100
LG BL9808
SAMSUNG MAGIC WATER FILTER
DAEWOO DD7098
HOTPOINT BL9808
GXRTQR/QXITQR/GXITQ
B&Q AQUASHIELD FILTER
OPELLA AQUASHIELD FILTER
WICKS INLINE FILTER
SCREWFIX FILTERMATE FILTER
WHIRLPOOL
LG 9808 BL9303 plus many more!

Carriage is free of charge to UK mainland.
Product Reviews
Perfect for drinking water

Posted by Tarek on 8th Jan 2019

I use only these filters for both my ambient water filter tap and my chilled/boiling water unit, changing every 6 months as recommended.

Great service from Andrew's Water.

Great Product!

Posted by Will H on 15th Dec 2018

Compact, does a great job of providing purified water, simple to fit / exchange.

Best anti scale filter to date

Posted by Chris on 21st Nov 2018

I have used these filter for sometime now and as we live in a very hard water area using this filter in our drinking water tap the kettle stays 99% lime free, so just change the filter every six months and job done, I run this filter inline with a half micron carbon filter just to enhance the finished water and extra protection against pollution,

Excellent filter from good company

Posted by James on 7th Jul 2018

Great filter! Always competitively priced with fast, well packed and reliable delivery.