Free UK Delivery on All Orders
30 Day Hassle Free Returns
Expert Advice & Support
Everpure AWT 4H Undersink Filter System
Everpure AWT 4H Undersink Filter System
Product Description
Everpure AWT 4H system is a great quality under sink system at a great price.

The Everpure 4H System has a 0.5 micron rated filter designed to deliver premium quality water for drinking This filter has a high capacity of 11,350 litres but a 6-9 month filter change is recommended by the manufacturer.
This system is a great alternative to the BW100 Everpure system as has very similar features and is manufactured by the same top brand.

Features:

C

hlorine Reduction

C

yst Reduction

Particulate Reduction

Taste and Odour

Scale inhibition

Quick change head for easy filter changes

Heavy Duty Chrome ceramic valve tap

Maximum flow rate 1.9 litres per min.

Everpure's unique filter blend using activated carbon reduces chlorine taste and odour and other offensive contaminants.

Saves energy by reducing scale build-up.

Proportioned scale inhibitor feed dramatically prevents lime-scale from forming in equipment.

Engineered to always feed the correct amount of scale inhibitor into each volume of water.

Pre-coat submicron technology reduces dirt and particles as small as 1/2 micron in size.

Reduces health contaminants such as asbestos fibres and cryptosporidium and giardia cysts.

System comes with a full installation Kit and heavy duty premium faucet tap.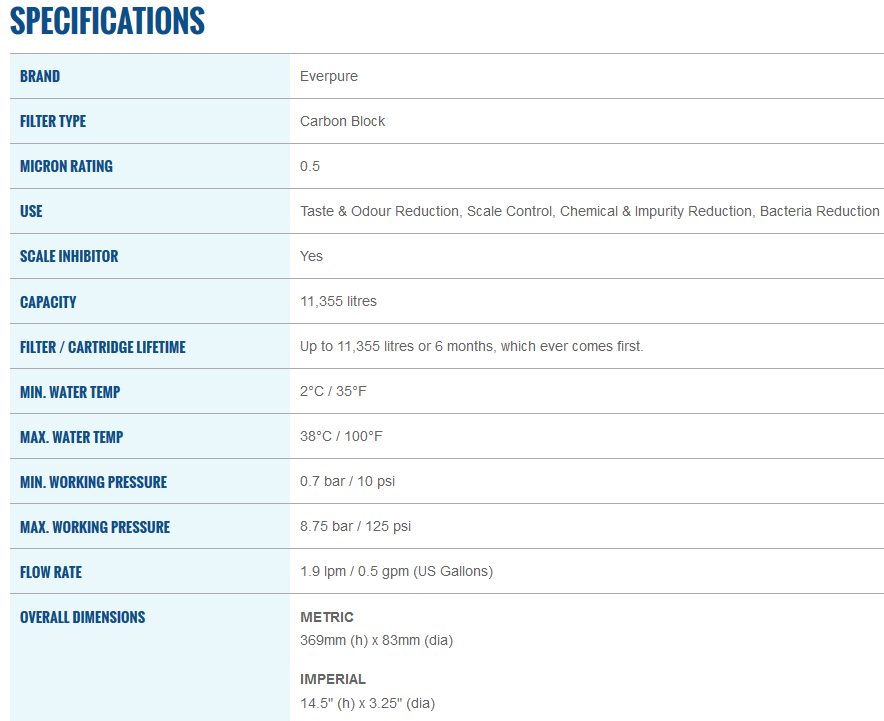 If you are unsure on anything but please do not hesitate to call us on 01704 531556 if you need any assistance.
CARRIAGE IS FREE TO UK MAINLAND.

Product Reviews
This product hasn't received any reviews yet. Be the first to review this product!
Customers also viewed