Free UK Delivery on All Orders
30 Day Hassle Free Returns
Expert Advice & Support
Carbon X - CHX7000Plus Replacement HX+ Filter (used for the Lincat CFC1)
Carbon X - CHX7000Plus Replacement HX+ Filter (used for the Lincat CFC1)
Multi-Buy Discounts
Buy 2 - 3 and pay only £26.95 each
Buy 4 or above and pay only £25.95 each
Product Description
Carbon X - CHX7000Plus Replacement HX+ Filter Cartridge

Filter (used for the Lincat CFC1)
The HX Type filter contains a 1 micron carbon block, scale inhibitor and KDF media for reducing the bacteria and heavy metal content of your water.

This carefully developed combination has proved to be effective in solving the problems associated with hard water - controlling the scale formation which blocks pipe work and damages equipment.
This filters scale inhibitor makes it ideal for applications that involve elevated temperatures, typically hot drink vending machines and hot water boilers.
The Carbon X head is no longer produced if you need a new head we can upgrade your system. Please call 01704 531556 for technical advice if needed.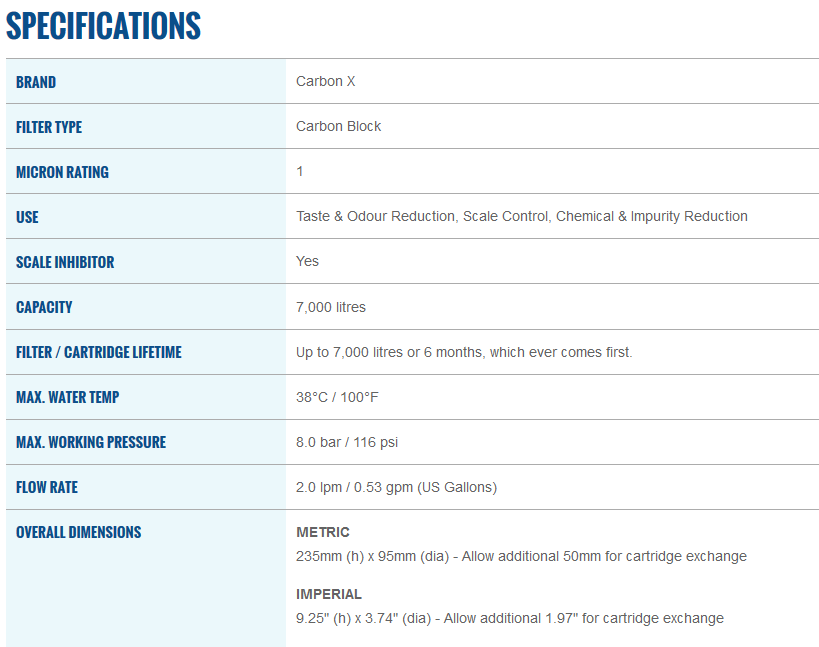 CARRIAGE IS FREE TO UK MAINLAND.
Product Reviews
Lincat Carbon X - CHX 7000 replacement water filter

Posted by Unknown on 10th Dec 2018

Excellent price, good quality filter. Ordering and delivery excellent.